Your gifts are vital to the everyday ministry at First Pres.
Thanks for your interest in supporting the ministries of First Pres. Your financial support and generosity allow us to create the quality environments that you and your family enjoy on a weekly basis.
Pledge for 2022-23 Fiscal Year
Thank you for your prayerful pledge for the year. This helps us to manage our financial resources to make the greatest impact.

June 7, 2022
Few things make me happier right now than watching First Pres come back to life. In a lot of ways, this has been a year of returning to things we know and love about life at First Pres. 
Music is filling the sanctuary as the choir, bells, and the worship team have returned
Jesus's compassion embodied as active mission involvement has returned
Children and adults sang about Jesus' birth as the Christmas pageant returned
Friends came together to nourish body and soul as Lenten soup suppers returned
We enjoyed fellowship and reflection when the Men's and Women's Retreats returned
Young moms shared valuable Christ-centered adult time as in-person MOPS returned
Relationships were renewed as Sunday Fellowship (with scones and better coffee!) returned
Other ministries returned looking a little different than in the past: 
Hybrid Adult Education and Bible Studies 
NEW Sunday Kids Club during the Adult Education hour prior to worship
NEW children's worship in the NEWLY UPDATED Kids' Clubhouse
Carnival themed fall festival with NEW games and activities
First Pres Christmas Caroling for all ages (including a dog!)
Because of you and your generous giving, we are also able to be making much-needed repairs and improvements to our building and grounds:
NEW safety fence around the west lawn
NEW landscaping
NEW technologies
and, for the first time in memory, we are debt-free! This is worthy of celebration!
We also know the challenges we will be facing in the immediate future. We continue to learn how to "be church" in new ways. We are in the middle of an all-church mission and demographic study that will help us focus our mission and the impact of your giving in the months and years ahead.
We can face any challenge with your support. We can do nothing without you.
Your giving to First Pres is essential in helping us keep mission and ministry moving forward. We need you to be a strong supporter of the work God is calling us to do—living and sharing the radical message of Jesus.
With deep gratitude,
Pastor Paul Detterman
Your 2022-23 Financial Pledge
Capital Improvements at First Pres
Free of Debt. Free to Grow!
In 2018, we initiated a three-year, $1-million capital campaign to pay off significant debt the church has been carrying (and paying significant interest on) related to capital improvements done many years ago.
As of September 2021, the capital debt at First Pres is paid off!

Current Capital Improvement Projects at First Pres
We invite you to scroll through each of the projects to better understand where how your donation for the current capital improvements will be used.
STATUS: COMPLETE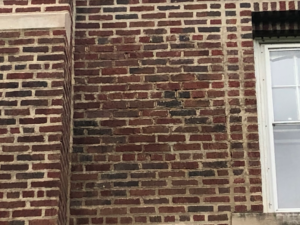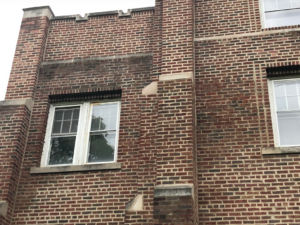 While brick buildings require markedly less maintenance to the outer walls than wood buildings, they do require some maintenance. Our church is in need of tuckpointing to keep the brick strong and the elements out! This project will focus primarily on most-needed areas: the west and northwest walls. This project will need to be completed before we complete the nursery.
STATUS: COMPLETE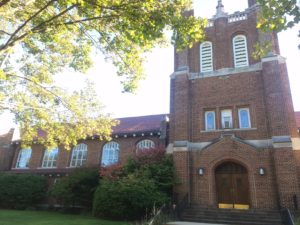 The church roof needs repair to stop the severe, ongoing efflorescence throughout the church. Efflorescence is a crystalline or powdery deposit of salts visible on the surface of brick and natural stone surfaces. It occurs when water leaves behind salt deposits on the masonry surface. We need to halt the progressive decay of the efflorescence. This project will be give priority as it impacts other projects, such as the nursery.
STATUS: IN PROGRESS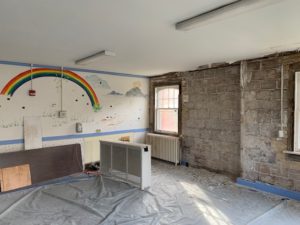 We want to have the nursery ready to welcome our kids when we return to the church! Thanks to your effort, the demo is done, but we still need to frame, insulate, drywall, paint, and carpet the nursery for our little ones! Before completing this project, we will need to repair the roof, and complete the tuckpointing on the west and northwest walls.
STATUS: BEGINNING NOVEMBER 2021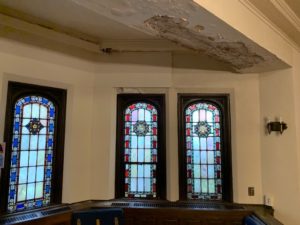 The Narthex is in particular need of repair! Severe efflorescence has damaged the ceiling. We need to fix the source of the problem, then remove and replace all damaged surfaces.
STATUS: IN PROGRESS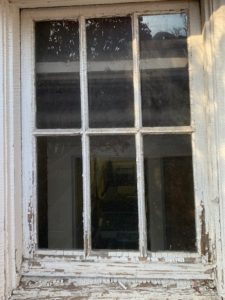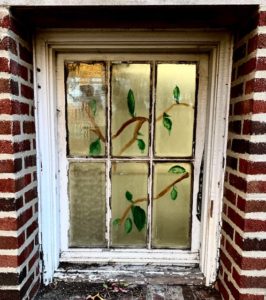 The beautiful old windows at First Pres hearken back to a simpler time when the church was built. While lovely, they are in need of significant repair, and repainting.
STATUS: IN PROGRESS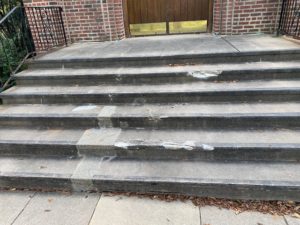 There are five sets of concrete stairs leading to various doors into the church. Each require patching and repair to maintain safety. Some of the stairs also require repair of the metal handrails, as well.
STATUS: COMPLETE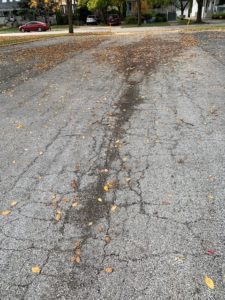 While our parking lot has been mainly empty for the past eight months, you may recall the holes, cracks, and uneven surfaces. The entire parking lot requires repair and new blacktop.
Stock & Estate Gifts to First Pres
QUALIFIED CHARITABLE CONTRIBUTIONS
To eliminate or reduce the impact of required minimum distribution (RMD) income, investors may consider making a qualified charitable distribution. A qualified charitable distribution (QCD) is a direct transfer of funds from an IRA custodian, payable to a qualified charity (defined in the QCD provision in the Internal Revenue Code). Amounts distributed as a QCD can be counted toward satisfying your RMD for the year and can also be excluded from your taxable income.
STOCK GIFTS
Are you considering a gift of stock to First Pres? It is one of the easiest methods to make a gift. If the stock has appreciated, the donor not only avoids the capital gains tax on the appreciation, but also receives a charitable deduction for the full fair market value for the stock at the time of contribution.
ESTATE GIFTS
Name First Pres as a beneficiary in your will to provide an estate gift that will provide long-term support for the First Presbyterian Church of River Forest while also effectively managing your estate.
ACCOUNT INFORMATION
Charles Schwab and Co.
DTC# 0164 Code 40
FBO The First Presbyterian Church of River Forest
Account #7096-0927
Trade/Service at Schwab: (800) 435-4000
Asset Transfer (for agents): (877) 328-0376
Please contact our CPA if you have any questions
AMAZONSMILE

When you use AmazonSmile to show, you pay the same prices, but Amazon donates a percentage to First Pres! It is completely free to use.
To use AmazonSmile to benefit First Pres, simply sign into smile.amazon.com, designate "First Presbyterian Church of River Forest."
FIRST PRES EIN
36-2252379
FIRST PRES CPA
Please contact Terri Benno,  our CPA, if you have any questions.