First Pres kids enjoy an environment of love and kindness as we make Christ known in word and deed to the youngest generation.
"Let the little children come to me, and do not hinder them, for the kingdom of God belongs to such as these." (Mark 10:14)
We invite you to explore what is going on, then join in anytime!
For more information, contact Maggie Downs, Director of Children Ministries.
First Pres Kids | January 2022
The First Pres building is closed Monday through Saturday during the month of January 2022. First Pres Kids programs are adjusted accordingly. SEE BELOW FOR MORE INFORMATION.
During the month of January 2022 (or until further notice):
Sunday Kids Club is on hiatus through January.
Nursery (10:00 – 11:30am) and Children's worship (during the second half of the worship service) are meeting in January. We are following CDC recommended health guidelines. Our workers are fully vaccinated and masked. Please make sure your child (2 yrs old and older) wears a mask to class. Please do not bring your child if they exhibit any cold/flu/COVID symptoms. Please review Healthy First Pres Kids.
For more information please contact maggie.downs@firstpresrf.org.
9:00 am Sunday Kids Club
10:15 am Worship and Children's Worship
On Sunday mornings from 9:00-10:00 am, our kids in Pre-K through 5th grade will experience a little bit of VBS each week with Sunday Kids Club! They will enjoy music, prayer, Bible stories, games, crafts, and other surprises along the way. The Bible story portion of the class will also be broadcast live on Zoom!
We provide age-appropriate education for all children with the opportunity to sing, play, serve, make projects, and learn about Jesus from stories in the Bible. Come join us!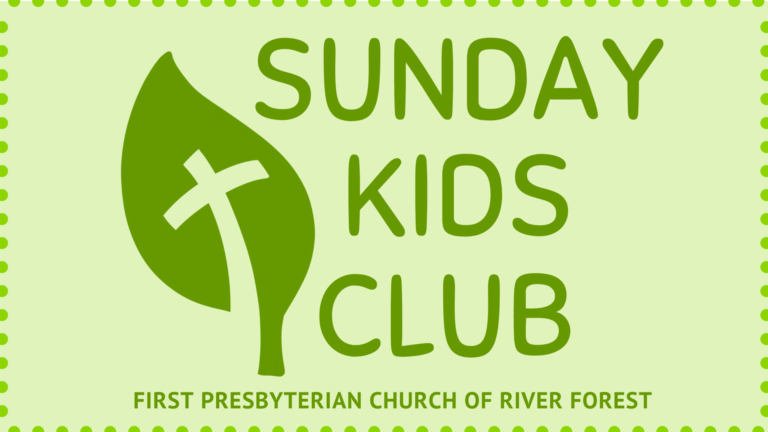 VBS (Vacation Bible School) is a week-long morning camp for children age 4 through 4th grade. Campers enjoy a wacky week of Christ-centered fun.
RSG (Ready, Set, Go!) is a day camp for students entering 5th, 6th, and 7th grades full of trips, group discussions, games, and service projects.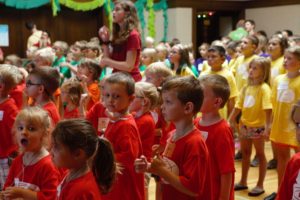 First Pres Kids Online Resources
Kids' Nite is postponed until we can safely gather together again!
Once the pandemic is behind us, we will return to offering Kids' Nite 36, a monthly evening of fun for kids in 3rd through 6th grades. KN36 is held on Fridays from 7:00-8:30 pm from September through March.
Open to all children! We encourage kids to bring friends. A typical evening at Kids' Nite 36 includes watching an uplifting video, hearing a short talk about Christian life, having a snack, and playing games. Kids' Nite 36 offers opportunities for children to interact with children from our church and around the community in a fun, relaxed environment that encourages connections, friendships and growth in their relationship with God.
Check our Events page for upcoming dates.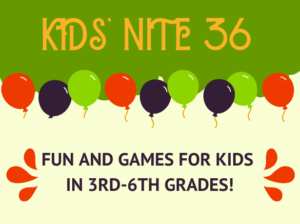 No. Kids' Nite 36 is open to all children in our community and we encourage kids to bring their friends!
See our Events page for upcoming dates.
No. After you fill in our registration form, you only need to sign your child in and out!
Absolutely! Just download the KN36 Registration Form, fill it out, and bring it with you to the next Kids' Nite 36!
We have a wonderful group of volunteers that work with our kids on Sundays, and during all of our amazing events.
Are you interested in helping out? We would love to have you! Please contact Maggie Downs, Director of Children's Ministry, to learn more.