Small groups led by adult church members help students live out their faith in practical ways and learn more about the God we serve through Bible study, discussion, mentoring, and community building. Most groups meet weekly or bi-weekly throughout the school year. Groups are separated by gender and grade level–9th/10th grades and 11th/12th grades.
CONTACT: Director of Youth Ministries, Jack Bell at jack.bell@firstpresrf.org.
Senior High on Sunday Mornings
Our youth are a vibrant group! During the school year when our church is open, we have class at 9:00 am and worship together at 10:15 am. Students are always welcome to sit together in the front several pews of the south side of the Sanctuary.
9:00 am: Sunday School for senior high school students  in the Youth Room 001 (lower level).
10:15 am: Many junior and senior high school students sit together in worship service.
CONTACT: Director of Youth Ministries, Jack Bell at jack.bell@firstpresrf.org.
Youth Bible Study, or YBS, is our weekly, coed Bible study group just for youth. Currently meeting by Zoom, YBS is for students in grades 7-10. We meet Wednesday evenings at 7:00 pm. You may join anytime!
CONTACT: Kim Tenhor
DMI (Don't Miss It!) is a weekly senior high youth group meeting on Sunday nights. It is a time for high school students to form deeper connections with each other, play games, and learn more about God. We meet on Sunday nights at the Church from 7:15 pm to 9:00 pm. Bring a friend and let the games begin!
CONTACT: Director of Youth Ministries, Jack Bell at jack.bell@firstpresrf.org.
Senior High Winter Retreat
Each winter, our junior high students head north to
Camp Timber-lee
in East Troy, WI, for a Winter Retreat! The weekend is filled with worship, small  group discussions, snow activities, and plenty of time to hang out with friends. Timber-lee offers broomball, human foosball(!), karaoke, a game room, cross-country skiing, tubing, tobogganing, and ice skating, and more!
This is a wonderful time for our senior high youth to gain independence, grow in faith, and just have fun!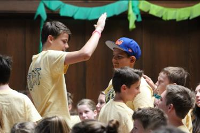 Rising 10th, 11th, and 12th graders, along with college students, have a special opportunity to be leaders for our Ready, Set, Go! (RSG) camp for 5th-7th graders during the summer.
This year, First Pres plans to offer a Reimagined RSG camp on July 20-24 this year. The program is contingent on Illinois moving to Phase 4 of its Restore Illinois Plan; if we are not in Phase 4, we will not conduct RSG.
Our Reimagined RSG camp will run two three-hour sessions, morning and afternoon, with 40 or fewer students.  If you are interested in applying to be a leader, please fill out the application form below. As leaders for the sessions, you will lead the group in praise, stories, discussions, and games. You are invited to apply for the morning session, afternoon session, or both sessions.
CONTACT: Director of Youth Ministries, Jack Bell at jack.bell@firstpresrf.org.
SUMMER SERVICE WEEK 2021!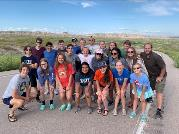 Developing a servant's heart is an important part of our youth program at First Pres. While most years, the youth group goes on a mission trip over the summer to places such as New Orleans, South Dakota, and Mexico to help those less fortunate, this year we are staying safe and serving right at home!
July 12-16, 2021 is Summer Service Week at First Pres!
Jesus said in Mark 10:45, "For even the Son of Man did not come to BE served, but TO serve, and to give his life as a ransom for many." 
Any student in the community (not just First Pres youth!) entering 9th through graduated seniors are invited. We are also looking for parent volunteers!
We would like ALL students to participate on Monday and we strongly prefer (but will not require) a minimum of two other days. We understand busy schedules but would love for you to come all 5 days!
The entire week will be FREE unless your family would like to donate to the cost of the homeless meals or the water park tickets. Designate it for FRiST Youth SSW. Thank you!
KIDS' SCHEDULE
Monday, July 12
12:00-5:00 pm
First Pres and local area service projects
Tuesday, July 13
12:00-5:00pm
Hope Academy
Wednesday, July 14
8:30am-1:30pm
Harmony Community Church food pantry or other help around the church
Thursday, July 15
12:00-5:00 pm
Homeless Ministry and Circle Urban Ministries
Friday, July 16
12:00-5:00 pm
5:00-8:00 pm (optional) for closing cookout
Mystic Waters for a celebration!
DONATIONS
We are looking for donations of men's socks, shoes, shirts (t-shirts are fine) for the homeless ministry. Contact Margaret Jones or Jack Bell for more information.
CONTACT: Director of Youth Ministries, Jack Bell at jack.bell@firstpresrf.org.